Advertisers
Branding and Direct Response Come Together
Consumers engage with brands by moving through successive phases of responsiveness. Typically, we see a "purchase funnel" depicting three distinct phases:
Awareness
People can be made aware of your brand, with or without the desire to purchase. Consumer data can create additional efficiencies at this stage.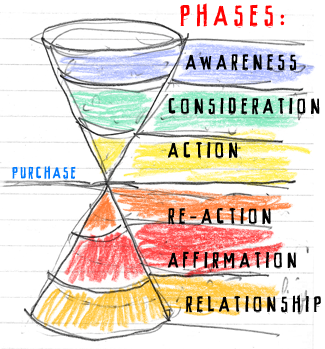 Consideration
Potential customers have decided to think about a purchase of your product or service. They start to do research and hone in on what they are looking for.
Action
Your customer makes a decision on what they want and how they will but it. This is the perfect opportunity to engage the consumer with retargeting techniques such as ROVER.
We believe that the funnel persists, and the mirrored image we use to illustrate this is the "hourglass" which continues the paradigm as the consumer moves through additional phases:
Re-Action
Once you have a customer, you can maximize your revenue by engaging with them in a timely manner following a purchase. This is your chance to cross sell and upsell.
Affirmation
Did the previous purchase provide an excellent user experience? Will you be able to keep this customer over an extended period of time? Now is when you engage them to assess satisfaction and drive loyalty.
Relationship
You can now build an ongoing relationship with the consumer, helping them assess additional purchases, maintaining a positive brand experience, and efficiently moving them back to the top of the funnel for new sales.
This view helps us understand that all advertising is both Branding AND Direct Response. Our "hourglass" approach to digital advertising is about just that – Brand DR. Brand DR takes the ability to Real-Time Market to consumers at each phase of their engagement with a brand.
For more information, please contact:
Phone: 805.880.6910
Email: advertiser@underdogmedia.com
Web: